Look above your cabinets… Do you have any roosters, baskets or fake plants? Is there a blank space up there collecting dust? Maybe you're ignoring it or planning to get up there with a vacuum in the next few years. It's going to be gross!
Does your kitchen look like either of these? If so, you may be due for a change…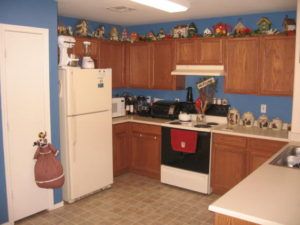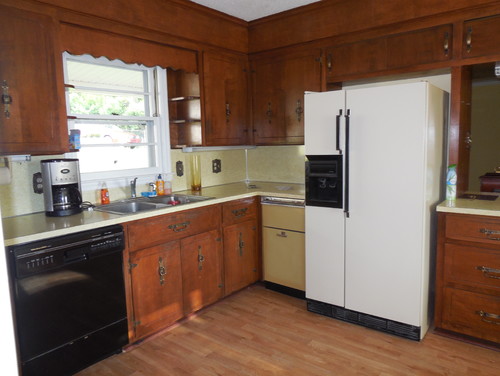 One of this generation's trends (not "trendy" trend but more of a new way to do things) is to take the upper cabinets to the ceiling. We don't literally mean that the cabinet doors scrape the ceiling but the crown molding will be installed so there is no open space between the cabinets and ceiling. There's not a great reason not to run cabinets all the way up unless you really see that empty space as a display opportunity. Most people don't these days. In our collective desire to simplify, getting rid of these clutter areas is another way to ease our over-stressed psyches.

If you have an 8′ ceiling the answer is clear. Go right up to it. You don't have the height to lose. In many older homes an 8′ ceiling is common but rarely is it worth it to raise a ceiling - It costs too much and can create too many other issues - Like you need that kind of stress in your life. Not to worry, the 8′ ceiling can remain as is and still look great! The below example has 36″ tall upper cabinets and crown molding installed right up to an 8′ ceiling.
The most common ceiling height we come across is 9′ tall. In this case, you have a few options. One method is to use what we call a triple crown (below). This has a smaller crown molding directly above the upper cabinets and a larger crown up to the ceiling. In between the two crown moldings is a riser or "furring" panel. This is merely aesthetic and not functional. However, it creates a nice classic look and eliminates any need to "decorate" above the uppers. In this scenario, your main cabinet remains 42″ tall.
Another method is to double stack the upper cabinets. Typically, 15″ tall cube cabinets are stacked above 36″ tall uppers. The doors of these cube cabinets can either be wood or glass depending on taste. It gives a totally different effect and could be seen as more of a statement. Where these smaller, cube cabinets are functional they should not be thought of as storage since they are just too difficult to get to on a daily basis. This scenario is a more expensive and a little more about the "show".
If your home has a vaulted ceiling or if it's just too tall we wouldn't recommend even attempting running cabinets to the ceiling. You probably don't want to be the guinea pig and blaze new trails in cabinet trends by triple or quadruple stacking cabinets.
So there you have Cabinets To The Ceiling - 101. Where it is acceptable to leave the cabinets pulled away from the ceiling, I would recommend thinking about that area differently and not crowding your head space with too much clutter.